Hay and Straw
We offer the following services;
• Mowing with 6.4m front and rear mowers
• Hay turning with large 8m machine
• Rowing up
• Baling with Krone 1270 MultiBale
• Carting with modern fully road legal kit
• Stacking with telescopic forklifts
• Hay and straw bought and sold
Stud farm contracting uses a KRONE MULTI BALER. This enables us to produce standard size quadrant bales, or multibales.

We bale high density quadrant bales that are tightly packed to maximise weight per bale, and to optimise space when storing and transporting.
MultiBales are the same size as a standard quadrant bale, but they are made of 9 small bales, which means the bale is more manageable when the right strings are cut. Each small bale length can measure between 0.3m and 1.35m. These small bales enable easy handling as they weigh a manageable weight (approximately 30kg). This makes these bales ideal for equine yards, zoos, small holdings and anywhere that requires manual labour!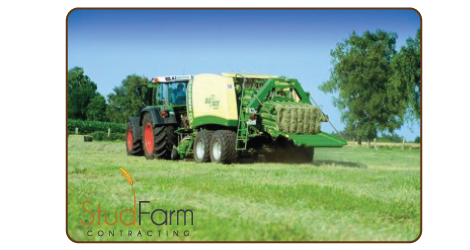 We use top quality Krone string that ensures each knot is tied perfectly to keep waste string to a minimum.